The Force was strong with Free Comic Book Day this year. This was our biggest Free Comic Book Day show yet! The most comics we've ever given away, the most vendors and guests we've hosted, and the most games we've had available for play. It's going to be tough to get even bigger and better next year, but we are up for the challenge!
It's Called FREE Comic Book Day After All
Everyone could pick up to four comics this year.
More Free Comics
We had a wide variety of titles to choose from.
You're #1!
It's always best to be first in line.
Waiting is the Hardest Part
While the lone for free comics looks long, it moves very quickly.
Choices, Choices...
Our helpful volunteers will make sure you get the comics that you would like best,
So many books, it's COMICal...
We had a sale on back issues in front of the store and was a big hit!
A Great Store is Even Greater
Our selection of books is always good, but they get even better when they are one sale.
Another Satisfied Customer
You got a free FCBD branded bag with your purchase. However supplies were limited.
Cute as a Button
Man of our vendors sold buttons this year.
Take a picture, It'll last longer.
You would want to remember this event for years to come.
An Italian Tradition
This handsome helmet allows you to live the dream of getting coins and power up by jumping into a question mark block.
May the Fourth Be With You
Our large quantity of Star Wars cosplayers let everyone feel like they were in a galaxy far, far away.
Becoming a Jedi
Kids had Star Wars cosplay photo opportunities and would get a free lightsaber along with Jedi Training during the event.
Kickin' It Old School
Nothing like actual arcade style games when you put together an arcade.
Slightly Newer School
But still old school games were also available.
The Ultimate Pinhead
We had a few pinball challenges to find out who the ultimate pinhead was.
Check Please!
Brian and Harry check out the machines and make sure they're in top shape for the competition.
It Belongs in a Museum
Some of her larger pieces are made from tens of thousands of individually placed beads.
Start of Something New
Olivia used our event logo to show everyone how she makes her bead art.
One at a Time
Olivia follows her pattern one bead at a time.
Getting Enough Iron
Once the beads are all in place, you just have to melt them together!
Retro Challenge Finals
This year we did a Smashdown competition in Super Smash Bros. Ultimate
Settling it in Smash
The Smashdown begins. As each character is chosen they are removed from the roster. Once all the characters are gone the player with the most wins, well, wins!
The Finalists
The finalists did the best in the challenges the month featuring Super Mario Bros Pinball, Tetris, Starfox 64. and Wizards and Warriors.
Stone Age Gamers
Kris and Dan from Stone Age Gamer provided color commentary for the Smashdown finals.
The Audience Goes Wild
The audience for the Smashdown finals also got to enjoy our pop-up arcade.
Game!
Mark won the most rounds in Smash down and these are the characters he won with!
Going on the Record
Kris and Dan interview Mark fresh from his win.
A Judge's Credentials
Model Builder Judge Jordan Neidert's modeling awards. Find Jordan on Facebook, Instagram, and Youtube under the name 00Gundamreviewsv2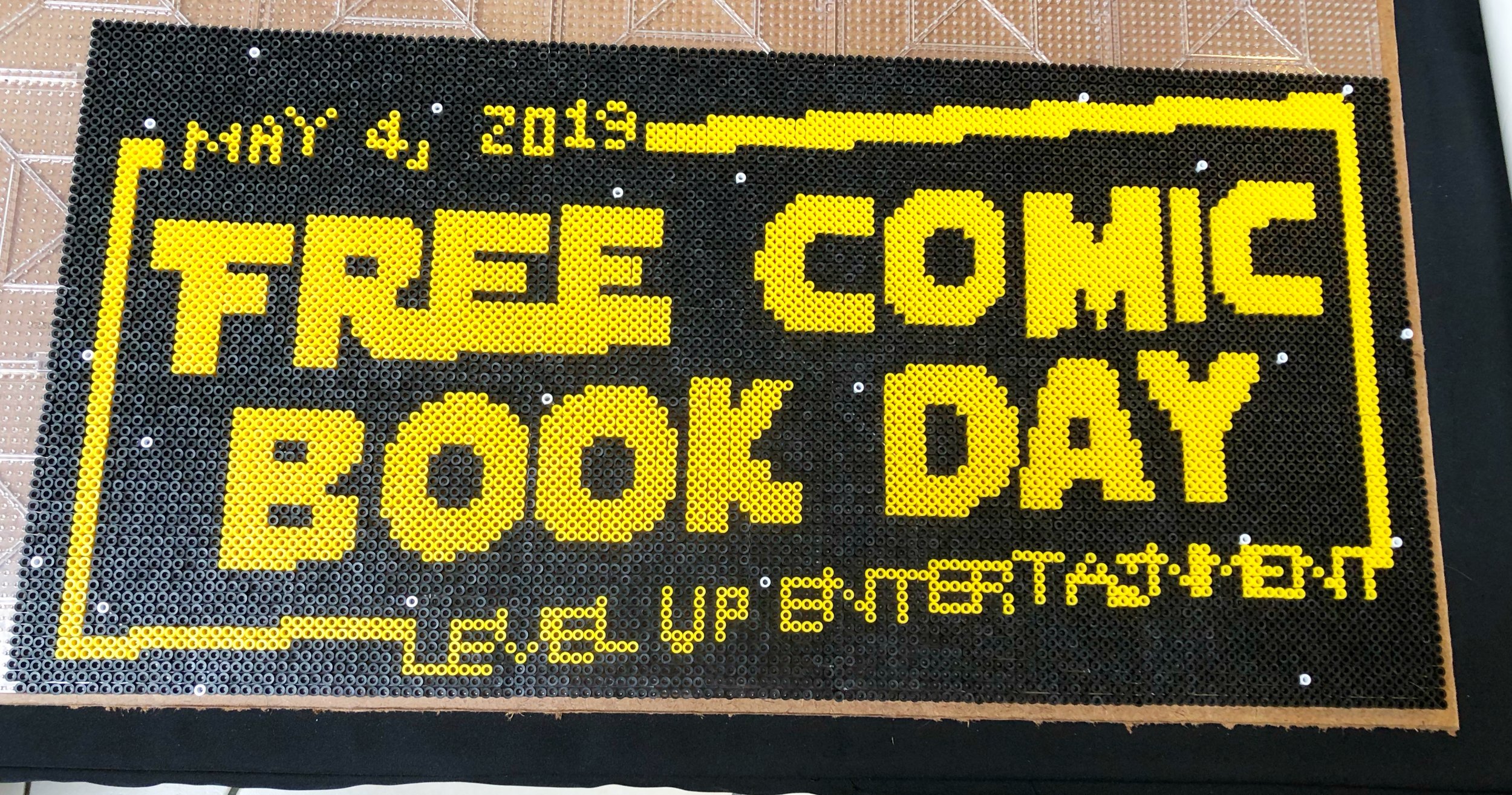 Lions on Mane and Matt McAdam
Dexter Weeks Working on a sketch commission.